Name:
Shintaro Takayama
Nickname:
Shin, Casanova
Age:
433 (Looks Mid 20's)
Gender:
Male
Squad:
13
Rank:
Lieutenant
Weapon(s):
Sword
Personality:
Shintaro has a short fuse. Although he is mature that doesn't mean that he can't get angry. He is very easily annoyed which goes along with his temperature. If you a generally annoying person, do not even approach him because it most likely will not end well. Although he doesn't always have outbursts and scream and yell at people at every little thing, you can tell when he is angry or annoyed by his facial expressions and actions.
He is a determined individual, which is something he as always been and the reason he has gotten so far. His determination is what drives him, it's a major part of who he is. His loyalty is something that is hard to earn. There are only a few people who he gives his trust to completely, and to them he is as good as a devoted follower. He will never do anything to directly harm them.
Even though he is not emotionally attached to his team, Shintaro will keep his team mates alive at all cost. Even if it means having himself killed. Although he barely knows any of the other members of his squad, he`d still lay his life down for them. He is difficult to befriend with. Even though he seems always to be smiling and such, he never really gets attached to anyone. But for those who are his friends, you'll notice how attached and protective he is over them.
Shin is attracted to women,as he tends to flirt with the cute ones when he is not busy with his shinigami duties. Unfortunately, he has no real time to build an actual relationship with any girl because he is busy working. However, he still flirts and he is still quite seductive to the people whom he finds attractive. However, he does get most of her pent of physical desire out through bikini magazines that he purchases in the real world. He loves to look at them and then purchase certain swimsuits so that he may one day invite all the people in his division (and others if they want to come) so that they can have a beach party, so that he can finally have some time to flirt with the ladies.
Physical Appearance: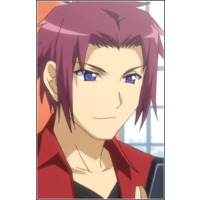 For a rather simple man, Shintaro has rather strident features. There is however nothing particularly which stands out. If anything he looks a tad younger than he actually is, the male quite youthful both by spirit and appearance - perhaps a result of his thin body and more spindly movement. Shintaro appearance seems to make him appear craft and confident of himself.
Shin stands at a normal five feet and 10 inches. Nothing to impressive here. His body is slim however, lean muscles making up the proximity of his body weight. It allows for light movement, the speed based warrior rather quick to react - smooth with every furtive action. Portioned nicely, there is no area trained more than perhaps the other - aside from maybe a small increase in the legs. While there are real no blemishes it is clear to see that Shin has a light bash complexion.
His hair is a light purple. He likes to keep it long, hanging to about his chin. There will be sometimes where he will tie it up in the back.
The man's visage is perhaps the most interesting thing about him. The bright blue eyes of his are narrowly worn, thin eyebrows sprawled along top. Leading downward one would see that classic smirk, which seems to be plastered on his face like some kind of disease.
Bio:
As a human, Shintaro was a very popular kid, as he had a lot of friends, good grades, and participated in almost every sport at school. His teachers say that he is their favorite student and that he will be missed when he graduates. At home, Shintaro lived with his parents, Hayato and Kikiyo, and had no siblings.
Late at night when he was walking home from the convenience store he heard a cat cry. Looking around he saw a small kitten stuck in a tree. He put his stuff down and climbed up to set it free. Of course the cat was being stubborn and scratch him. As Shin fell the cat landed on it's feet and ran. Getting up while scratching his head, Shin felt an unusual sensation and turned around but saw nothing. He picked up his stuff and walked back home. Though the feeling never went away. This time he saw something, it wasn't clear but it looked like a monster with a white mask. He was scared and ran. The monster eventually corned him. It's hand swopped toward him
When his eyes opened all he heard were sirens. He slowly opened his eyes to see police men and a crowd of locals. Getting up he heard noises. Looking down there was a chain on his chest. "I'm sorry ma'am, he's gone." hearing his mom crying. Running over he saw his dead body, drenched in blood. Shocked, he ran as fast as he could away from it till he tripped and fell. He got up and saw a black swallowtail and stared until a mysterious stranger in black appeared. "Who are you?"
"I'm a Shinigami, I'll be sending you to the soul society." He drew his sword but Shin got up and grabbed his collar and pulled it down until they were at eye leveled. "Where am I? What happened? How did it happen?!" He didn't show much expression. "You are where you died, this is where you lived until you died. A hollow, a evil soul did this to you. Unless you want to encounter that again I suggest you let me do my job" He stamped his forehead with the back of his sword as he fell into a glow of light.
As a soul, Shintaro thought that his past life was a dream and simply ignored it. Shintaro now lived in the 1st District of Rukongai, with his parents and his older sister, Ayame. His parents and his sister were soul reapers, who were both members of the 13th squad, which excited him as a young child, as he thought that he too will become shinigami. As soon as he were old enough, His father taught them the basic skills of a shinigami, zanjutsu, kido, and close combat. Shintaro excelled in his zanjutsu training and his kido, but could not fight using hakuda to save his life, which made his family laugh at him. One day, there was an attack on the town by shinigami bandits who defected from the soul society. Shintaro saw his neighbors and friends get killed on the spot and could not take it anymore. With his training sword, Shintaro and Ayame went on the attack, but were easily defeated, and all were knocked out unconscious. As they woke up, the town was in ruins and they found their parents on the ground, lifeless. Their grandfather, who was a captain at the time took in the children to train them in the arts of the shinigami.
Every day for the next couple of years, their grandfather trained each child differently. Because of the whole ordeal with his parents, Shintaro distanced himself from his sister, which made him a little hostel at his sister. This also made him lack at his training as he didn't feel like doing it any more if he was just going to die. Soon his grandfather yelled at him, saying that he needs to stop feeling bad himself and suck it up and be a man. Shintaro being as he was, did not listen to him, but decided to fight anyways, not because his grandfather said so, but to protect those around him from ever getting hurt. As soon as they were old enough, Shintaro and Ayame enrolled in the academy together, not knowing the outcome of their training.
Most of the students wondered why he was so distant, it was because of his parents death. Though for being distant, he was an exceptionally good student. He knew the gist of everything. Hohou, Kidou, Zanjutsu, even Hakuda, because of his grandfather. The next year, he was placed in the advanced class. It was only a step higher of a challenge to him. While everyone else was struggling, he went through practice quickly. He had quite a bit of free time, and took up a calligraphy class on the side. The years flew by quickly for him. While everyone else dreaded the sixth year students' graduation exam, Shintaro was relaxed. The day came where they took the final exam. It was a "game" of capture the flag. The goal was to capture a flag from the Commander of the Onmitsukido. The first to capture the flag could choose their division number. The game started, and all of the students rushed forward, and they could use any means to get the flag, even to attack with their academy training swords. As each other student ran forward, Shintaro strategized. He watched the pattern of the target, then moved swiftly, managing to grab hold of the flag. Everyone, including the Onmitsukido leader, was astonished. How could he move so quickly to grab the flag? It was simple, he watched as the target moved to the left as people tried to get it from the right. All Shin had to do was go to the left. He gave the flag back, and went forward to each Captain, looking over each of them. He was given the chance to choose which Division he wanted to join. In honor of his parents, he chose the 13th squad.
Inner world appearance:
The inner world of Amatsukasai is a forest that borders a never ending ocean entirely dominated by a large volcano, as it seems to spew ash and smoke forever as long as his spirit is alive. The sky is gray and seemed to produce ash like snow. Outside the volcano, the trees that surround the volcano have been burned so that it looks eerie in a way, mimicking the shape of claws. Inside the volcano, one finds themselves in front of a large temple, consisted of many levels, filled with only floating balls of fire, which grow with intensity once you get to the top of the tower. At the last level of the temple, there is a shrine, where the spirit is found
Zanpakutō
Name:
Amatsukasai
Zanpakutō spirit:
Amatsukasai has the visual age of a young man, mid 20s or 30. He stands at around 6'0, giving himself a muscular and tall stature. His hair, despite his visual age, is actually dark white in color. It is kept in a free flowing way, as it seems to go down all the way to his waist. The most noticeable thing about him is the samurai armor he wears. He wears red armor along the shoulders; although it seems that he is missing a chest plate, revealing his abdomen. He is always seen carrying two swords on his waist. On the bottom, he wears black robes with red flame designs on them, while he wears traditional sandals on his feet.
Amatsukasai is normally very obedient towards its master, in this case Shintaro, usually bowing in a formal fashion and using the word 'Master' when speaking towards Shin. He is willing to put his life on the line, and will do anything to keep his master safe from harm. He is strong willed and cannot be easily faltered by others, unless told to by Shin. Although when angered, he will not hesitate to kill others, to the point where not even Shin can stop him
Sealed form:
When sealed, Shin's sword is a normal katana which longer than most katanas, measuring at 28in. The hilt of the blade is a bright red with white diamonds running down it. The guard of the sword is a chrome yellow, which gives off the appearance of gold. The sheath is a black obsidian color, with a red ribbon wrapped around it.
Shikai
Call out phrase:
Ignite
Shikai description:
While releasing his zanpaktou, the sword starts to produce a fiery glow which engulfs the sword and the lower part of his arm. After the light show, it appears that the sword has turned into a 6 foot long lance, which has a red and orange tint to it and indents of flames engraved into the side. On the end of the lance, the blade is three blades conjoined at the base and separate into three ways. Among his arm, red samurai armor appears over his arm, while also forming a glaring gauntlet over his fist.
Ability:
Basically, Amatsukasai gives Shin to manipulate fire and anything fire based around him. When released, Amatsukasai gives off a vicious amount of flames around his body, just enough to cover his entire person, and moves around his body. As he moves, so does the flames around his body. Although he can control them loosely, they are mainly to keep opponents at bay, unless they want to risk major burns. These flames can move outward to some degree, completing a radius of about 2 feet.
The flames around his body react to his Reiatsu, almost feeding on it making them grow larger and more powerful. When his Reiatsu is all there and at full power, The flames around him are fluctuating and more powerful, measuring at about 1500 degrees Fahrenheit and giving 2nd or 3rd degree burns if not protected will enough, while when he doesn't have any energy left, the flames have the same power as a candlelight, measuring at about 90 degrees Fahrenheit, hot enough to give someone a irritable skin burn. Though, if he had more energy than he knew what to do with, he could end up engulfing himself within the fire, killing himself.
Another ability of Amatsukasai is when in a jam, Shin can control the flames to condense which absorb into the lance. But instead of using its power to manifest into flames, The flames turn into reiatsu and add on to the lance, changing the lance into a thick broadsword, about the same length as the lance, but even more denser than it, trading speed for strength. When using this form, his zanpakuto loses the ability to produce flames and control them, but can control his change into his regular lance
Techniques:
Kouen Kyuushuu (Red Flame Assault)- When using this attack, His lance glows a bright red flame, and then slashes the air, making a arc of fire which flies towards the enemy. This is one of his more basic attacks, It can be blocked a more powerful opponent or can be overpowered by kido over 25 when in shikai.
Moeagaru Shouheki (Flaming Barrier)- While using this technique, his gauntlet produces a shield made reistsu, making can block kido attacks and energy attacks, but not physical ones. It can be destroyed by kido over 35 or by a more powerful signature attack
Yuuenhinote Gokaikukei (Grand Blaze Pentagon) This attack creates several balls of reistsu which gives off the appearance of balls of fire, Then strands of fire connect the balls to each other, which produces a large pillar of fire engulfing the opponent. This is not a instant kill move, but leaves the opponent with serious wounds. This attack can be avoided just by moving outside of the pentagon.
Bankai


Bankai name: Hageshii Amatsukasai

Bankai description: When Shintaro goes into his bankai, He gains an orange aura, which gaves him the appearance of being on fire. He gains flaming armor which looks like a samurai that covers his shoulders, chest, and legs. The lance duplicates and produces a holder on his back for both of them A giant flame spirit appears behind shin, wearing the same exact armor that he is wearing. His whole body his orange and wears a spiritual necklace. He follows Shintaro orders without hesitation and is able to go back into his sword whenever Shin wants to



Ability:
The Bankai release of Amatsukasai like many grants the typical power boost. This includes increased reiatsu, speed, physical strength etc. This of course goes without saying since like many other Bankais, something else is given to the wielder. In Amatsukasai's, the basic abilities like in Shikai remain the same. There is a significant difference however in terms of the power, speed and potency of the fire that whips around him. For Amatsukasai, a giant spirit that is well equipped for combat. Its is capable of using the same techniques as Shin. The movements and actions of the spirit are also under the control of Shin. His strength is formidable, capable of destroying mountains and buildings if it was needed. But its speed its not the best, and is only capable of moving outwards a few feet. Shin is also connected to the spirit, meaning that if one were to seriously hurt the spirit, Shin would be able to feel it.

The spirit's armor may seem impossible to break, but it is not immune to the assaults that would seek to cause damage to it. One must remember that it is a rather big target. The armor protecting the body, can be broken through with a reasonable attack. The fact that its not capable of Shunpo, and such speed based abilities, makes it even easier to target the beast. Subduing the beast is also not impossible, since it only requires a logical thought process. It is nowhere near invincible, instead it is simply formidable and unique in its own way.


Techniques:
Kouen Kakuheki (Flame Barrier Wall)- Using this techinique creates a wall/shield made out of fire. The wall is 15x10, just enough to cover him and another person. This techinique is mainly to defend from high level kidos, kido less than 75, and energy blasts. Touching the wall will give minor burns to any body part that it touches. He can only keeps this up for a few minutes

Amatsu Sutoringusu (Heavenly Strings)- The user creates several bright beams or fire and shoots them at the enemy. A halo of bright energy spreads from his lance as this technique is activated. The beams are able to alter their direction after being shot, making it possible to strike multiple enemies with pinpoint accuracy, even bypassing hostages held in close proximity. The user can increase the number of missiles to a great amount to pin down an enemy. The downside to this attack is that it is quantitative of qualitative, meaning that though the strings are quick and , by itself, it is not very strong, which is why Shin produces so many

Kokuhyou (Damnation)- In order to use this attack, the user needs to gather a whole lot of reiastu to use. When gathered, the lances start to glow and are magnetized together, making them impossible to pull apart. Then the lances start to shine, then release a yellow and red blast, a blast large enough to destroy a building or a small town, only lasting a few seconds though. The only way to defend from this attack is to either have a strong enough shield, something that could cover the entire blast or have a very durable physical strength, but would still have serious damage to their person. This is Shin's ultimate go to move, since it usually drains him of more than half his energy

*Bankai not gained yet*
Role-play sample:
Shintaro wanders Rukongai with an interest to look at anything or talk to anyone. As the wind blows hard into the city, He looks as if it doesn't affect him. He wants to do anything but walk around, but to him, the world only has so much to do. Even though he didn't know anyone, He would always gave them a frown and grunt. But its like that with everything, Shintaro thinks to himself. Because of his because of his aggressive personality, it was easy for Shintaro to make enemies.
Daydreaming about his past, Shintaro walks into a nearby person with realizing it, a thug with a gruff voice who as taller than him "Hey buddy, Watch where you are going." The thug yells at his face. Unphased by his attempt to scare him, he walked right past him with a quiet. "Sorry" The thugs caught up to him and grabbed him by the collar of his robe. "Hey Buddy, I don't like your attitude. Looks like we are going to fix that" Shintaro's face looked untroubled, but he suddenly did a flip kick to the thugs face. "Ow, You are going to pay for that" Suddenly he punched him without even trying, as the thug laid down holding his stomach. Shintaro started to walk away and waved at the thug. "Come and find me if you want more"
Shintaro walked away, leaving that thug to lay on the ground and enjoy the rest of his day
The sun was blazing on the head of young Shintaro, while the numerous clouds in the air blocked the heat, mixed with the soft breeze of the wind, it was a good day, a good day to be out and about. Shin wasnt the one to be cooped in a hot and musky building all day, listening to all the stupid arguments between his fellow shinigami, until they break out into full blown fights. Although he loved to fight, and when bored could pick a fight for no reason just to have fun, today was just a nice relaxing day. And what better way to relax than to to walk around town. "Such a nice day out today, Why can't it always be like this? Life would be so much easier." Shin chuckled to himself as he looked around at the different stores and restaurants. Everybody seemed chilled today, like there was no violence or war in the world, which kind of made Shin feel a little disappointed, but he knew that everyday there were going to be fights for him to fight, but rarely a peaceful day comes like this.
After he got bored, Shin sat on nearby bench, right in front of a calm scene of trees, bushes and little kids playing with a ball, which made him smile a bit. But knowing him and his aggressive personality, people wouldn't believe that he could smile and wouldnt be sarcastic or fake about it. But something about today relaxed Shin to an extant that he never knew before, almost to a point where he felt lazy and didn't want to do anything for the day. But he knew that he would eventually have to go back to the barracks, which displeased him and harshed his mood. "Damn it, It would be a drag to leave on such a good day like this. I dont think they would miss me." Shin chuckled to himself and pulled up his sleeves, sitting back on the bench while his zanpaktou rested on it. "I dont think anybody could ruin this day, cause i like to see them try."
Statistics:
Rank/level - ADP-1
Hankou - 10
Reiryoku - 10
Hakudo - 5
Seijuu - 10
Bukijuu - 10
Hoho - 10
Points awarded:
Total points: 55