| | |
| --- | --- |
| Just...Transform damn you. (open/no death) | |

Author
Message
Fensake
Unseated Officer




Title

: The Chang of any group.

---

Posts

: 158

---

Soul Cash

: 3140

---

Age

: 30

---

Location

: Dallas, Tx

---


Character sheet
RPC's:


Subject: Just...Transform damn you. (open/no death) Wed Dec 12, 2012 12:07 am

---

First topic message reminder :

It was rather bright out today, annoyingly so with not a single cloud dotting the sky as far as the eye could see. Open lines between building had slow crowds milling through them while shadows cast by the buildings themselves contained individuals trying to hurriedly reach the next one. Heavy coats of all colors and shapes with little hats and gloves to match darted back and forth as winter grew ever colder and shoppers grew ever more pressed for time.

"Feh, if I could just get you in the spirit of giving this silly ritual is supposed to inspire I might get this damn chain off." A demented little elf did utter, for as shoppers and commuters did toil below Giuli toiled above to unleash a hollow on them just to see what might happen first. It got full, or a shinigami came along to break it. To most this endeavor would seem pointless but then most did not work on the same level as Giuli did. He stood to learn two valuable things no matter what happened. Once made could a low-level hollow gorge endlessly on human souls if given the chance or would it fill itself up to burst and then leave. The other tidbit would be a rough estimate of shinigami response times for the area. Oh, but you ask, wouldn't it take several of these attacks to correctly judge the second of these two options?

Yes normally it would, but Giuli is a truly devious man and he has many a devious servant, or at the very least a handful of weak numeros doing this very same thing at other locations in the area. The others had gone off already and fled. Hollows all slain but Giuli himself would have to look at the data later to see what did it.

"Come...On...ONe...More...Pull!" He groaned, planting a foot on the screaming Earth-bounds chest and tugging one last time. A satisfying pop issued and Giuli toppled back over the edge of the building as lights flashed and flared about him. His new hollow shot out over the street and down into the crowd with a starved sort of desperation already apparent in his eyes. "Now then...how long till they get here." Giuli pondered, hanging upside down amidst the air as he took in the first screams of terror.

"Ah..so beautiful."
---
Author
Message
Fensake
Unseated Officer




Title

: The Chang of any group.

---

Posts

: 158

---

Soul Cash

: 3140

---

Age

: 30

---

Location

: Dallas, Tx

---


Character sheet
RPC's:


Subject: Re: Just...Transform damn you. (open/no death) Sat Dec 29, 2012 7:32 pm

---

"Oh a cheeky little hollow aren't you?" Giuli said with perhaps a slight hint of annoyance in his tone. He could probably have ripped the arm off that tried to shove him but instead let it push him back by all appearances. Best not to upset it when he had just forced the boy to challenge it. Get it riled they might say.

"Come on boy, don't show it timidity. I want you to literally blast it apart with your power. A hollow knows not of intelligence, it knows of only DESTRUCTION!" He screamed out his final word with mad enthusiasm, a cero charging in his hand as his other hand hovered above it. A passing bird, now Giuli would never reveal how he got it to do this, flew between his out-held hands and he blasted it into oblivion then and there. Maintaining the energy with his hands as mirror for the released firepower.

"You see Boy? He did not listen at all to you." Giuli said as the spirits both vanished. "He isn't listening, he is turning his back on you." He was ready to continue, collapsing the Cero down into a ball before quashing it completely between his mirror hands. when Akashi suddenly doubled over and started spouting something about Giuli needing to go.

"Oh my dear DEAR boy, you forget I agreed to not let harm come to the innocents. I'm paraphrasing to make the deal still work but I dare say you won't be a danger to me unde the control of a dumb hollow." Giuli spun slowly as a Garganta opened behind him as he disappeared and flashed back in behind Akashi, the Garganta now a backdrop for the boy.

"The endless sands will serve you well int learning control of this monster and I intend to stay here for every minute of it for your safety and for my reseach." He grinned even as he delivered a kick to the boy, not painful but almost like he was bunting him, that sent him flying into the Garganta and into the Huecos endless sands. He chuckled as he strolled through right behind the boy.

(akashi/giuli exit?)

Continued Here:

http://bleachoblivion.canadian-forum.com/t1093-transformation-continue-s-invite-only#18066

Fensake
Unseated Officer




Title

: The Chang of any group.

---

Posts

: 158

---

Soul Cash

: 3140

---

Age

: 30

---

Location

: Dallas, Tx

---


Character sheet
RPC's:


Subject: Re: Just...Transform damn you. (open/no death) Wed Jan 09, 2013 10:36 am

---

"Alrighty then, time to signal another shinigami to come collect you." Giuli said, glancing about as if a shinigami would just appear because he had said that. With a sigh he slumped his shoulders and moved over to the tallest building and set the boy down. "Oh, probably should reseal myself so I don't scare anyone who comes to pick you up now shouldn't I?"

He shifted Akashi to be comfortable before putting his hands together as if to pray or meditate. After a second he began to pull them apart and as he did his sealed form blades began to extend outward from them and his diamond formed arms began to revert to normal. Once he had them fully withdrawn he plopped them back into the odd bag he used for a sheath and moved over to pluck Akashi's staff up and examine it.

"I might as well study this while we wait for your pickup." he said crossing his legs and beginning to play with the weapon.

(alright, waiting for a person to come pick up akashi...akashi can wake up if he wants i think but i figure somebody will come get yah soon.)

Sponsored content






Subject: Re: Just...Transform damn you. (open/no death)

---

| | |
| --- | --- |
| Just...Transform damn you. (open/no death) | |
CENSUS
IF I CANNOT PROTECT THEM FROM THE WHEEL
| | | |
| --- | --- | --- |
| ARRANCAR | ♀ 16 | ♂ 18 |
| BOUNT | ♀ 3 | ♂ 3 |
| FULLBRINGER | ♀ 5 | ♂ 12 |
| HOLLOW | ♀ 3 | ♂ 4 |
| HUMAN | ♀ 6 | ♂ 7 |
| QUINCY | ♀ 7 | ♂ 6 |
| SHINIGAMI | ♀ 13 | ♂ 36 |
| TOGABITO | ♀ 8 | ♂ 12 |
| VISORED | ♀ 7 | ♂ 11 |
| TOTAL | ♀ 68 | ♂ 108 |
SPOTLIGHT
THEN GIVE ME A STRONG BLADE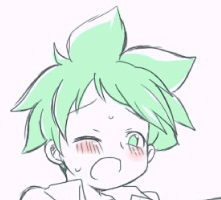 Doctor
is the member of the month. Ever since he joined, he's been extremely active, and really knows how to get things moving plot-wise. He was recently promoted to staff as well, and so far has shown great enthusiasm. He's also a friendly presence in the c-box, which is never a bad thing.
---
Gray
is character of the month. Apparently one of the more popular characters on the site, well-known for his habit of stripping, which isn't good enough for Ulqui, but seems to do the job for his numerous IC fangirls. Has also earned (EARNED, not bought) numerous stat points in the past few months. Side note: Anyone who speaks of a gilf pairing will be shot on sight. :U
CREDITS
Skin coded by Mugetsu. Some codes were taken from w3schools. Various images were taken from zerochan. Information used was taken from Bleach Wiki. Tite Kubo owns Bleach and it's respective characters. Information and posts made on the forum are copyrighted to the member base. Please do not steal.